What They are Saying About Bizprofitpro
About Us
800-905-1213 Ext 151
Accredited Business Intermediaries
Bizprofitpro is a National Business Sales and Acquisitions Firm. We are Accredited Business Intermediaries with affiliates in all 5o states. We help businesses or individuals acquire and sell businesses. We have developed proprietary software that allows accurate business valuations using up to date information from recent business sales. Bizprofitpro offers over 25 profitable business for sale or merger. We specialize in businesses with annual revenues up to $20 million.
Business Management Consultants
We implement strategies using presentations, workshops and performance based models to execute positive change for small business, corporations and government entities. Our services help achieve more profits, productivity and long term positive change for our clients. We accomplish this by offering a variety of services and programs including: Rapid Results improvement projects, planning for value enhancement, assistance in entering international markets, dealing with diversity/cross cultural issues, Business Continuity and Disaster Recovery Planning, Supplier Selection/Management, ISO 9001 Quality Management System Implementation and Measuring/Improving Customer Satisfaction. Our staff consists of highly seasoned professionals with executive experience in various industries. Contact us today to see how we can help your business gain more profits and productivity.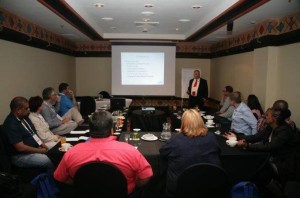 What They are Saying…
"I would definitely recommend Mark of Bizprofitpro for future projects. At the beginning of this project, I thought that his work plan was impossible within our required timeframe. However, he proved me wrong. He has phenomenal interpersonal relational skills and patience in developing the relationships which are required to get people to go the extra mile and exceed expectations."
Justin McDonough
Johnson & Johnson
"Marvin White demystifies the process of running a small business with three unique processes and seven specific pillars that, when applied, will not only take your business to the next level, but will reignite your passion for what you do! This book will change the way you approach business FOREVER!"
Michael Hellickson
Virtual Assistant Staffing
"I have worked with Mark on several occasions in building our Quality Management System in our preparations for TL9000 certification. I have found him to be very professional, knowledgeable and instrumental in assuring we met and exceeded all requirements. With Mark's hand's on approach our organization has gone beyond installing just a compliant system to a system that is being used per the intent of TL 9000 which is to have a Quality Management System that drives continual improvement, efficiency and customer satisfaction."
Chris McClenahan
Motorola Home & Networks Mobility
"Marvin White has the experience to help any Business Owner succeed; his new book dramatically and effectively shares this experience concisely and effectively. Any business owner who wants his navigation in the rough seas of entrepreneurship to happen with more ease and less struggle would profit greatly not only by reading Marvin's book, but engaging its principles!"
Thell Prueitt
Best-Selling Author of The Art and Science of Success: Vol. 2
"I believe the Seven Pillars to Profit concept is a refreshing way to look at a business. It allows entrepreneurs and business owners to apply a systematic approach to improve their businesses and gain more profit."
Robert G. Allen
Author of the bestsellers Nothing Down, Creating Wealth, Multiple Streams of Income, and The One Minute Millionaire
"On the several occasions that we have the opportunity to work with Mark Hehl we find him to be very reliable, responsive and dedicated to his job. One thing that we like about him is he is proactive and able to work beyond his scope of works."
Wong Peng Soon
Managing Director, Malaysia
"We were approaching the date for our TL 9000 certification and we needed someone to come in, close open issues and verify that our Quality Management System was ready to undergo the scrutiny of an audit. Mark was chosen because his previous accomplishments and successes were well known to us, and we were familiar with his high productivity and ability to get a great deal of work completed in a short time. Mark was instrumental in providing us with the direction and know-how to not only to accomplish this, but to build a more robust system that will help us achieve tangible business results."
Micahel Redden
Big Band Networks
"Marv's Seven Pillar Profit Model will put you on the high road to succeed as an entrepreneur. Incorporate these Seven Pillars to make a positive impact on your business and achieve your destiny."
Patrick Snow
International Best-Selling Author of Creating Your Own Destiny and The Affluent Entrepreneur